The 8 WFISC winners, since the inauguration of the competition in 2008, have all gone on to superb success in the musical world, launching wonderful careers.
Daniil Bulayev is a current student of Professor Petru Munteanu (Leopold Mozart Centrum, Germany) and Nelly Sarkisyan (E. Darzin Music College, Latvia). Daniil has appeared as a soloist with several orchestras, including the Stuttgart Chamber Orchestra, the Glasperlenspiel Sinfonietta, Kremerata Baltica, Sinfonietta Riga, the Salzburg Chamber Soloists, Archi De Sono, the Latvian National Symphony Orchestra, the Lithuanian National Symphony Orchestra, the Armenian National Symphony & Chamber Orchestras, the Macao Orchestra, among others. Alongside winning the 2021 WFISC, Daniil Bulayev has been awarded Laureate at the IX International Balys Dvarionas Competition (2012, Lithuania), Grand Prix I at the Zhuhai International Mozart Competition (2015, China), 1st prize at Il Piccolo Violino Magico, (2017, Italy), 1st Prize at the Leonid Kogan International Violin Competition (2019, Belgium) and 1st Prize at the Kloster Schöntal 18th International Violin Competition (2019, Germany).

Jonathan Swensen made his debut playing Elgar's Cello Concerto with the Porto Symphony Orchestra in 2017. Since this debut, Jonathan has performed with the Granada Chamber Orchestra, Florida's Venice Symphony Orchestra, Aarhus Symphony Orchestra, Wroclaw Chamber Orchestra and the Copenhagen Philharmonic. Jonathan won First Prize in the 2018 Young Concert Artists International Auditions and also First Prize in the 2018 Khachaturian International Cello Competition, alongside giving a gala concert performance in Yerevan with the Armenian State Symphony Orchestra. Jonathan Swensen is currently pursuing a master's degree with Professor Torleif Thedèen at the Norwegian Academy of Music in Oslo.

Nathan Meltzer was the youngest ever winner of the Windsor Festival International String Competition - aged just 16 when he won in 2017. He returned to Windsor to perform the Sibelius Violin Concerto with the Philharmonia Orchestra, as part of his first prize, following which he was signed by Hazard Chase for worldwide management. Nathan is studying under Itzhak Perlman at the Julliard School of Music.
You can watch him live here in a recent recording with the Adelphi Chamber Orchestra of the Carmen Fantasie, the very piece he played in his prize-winning performance in Windsor, March 2017: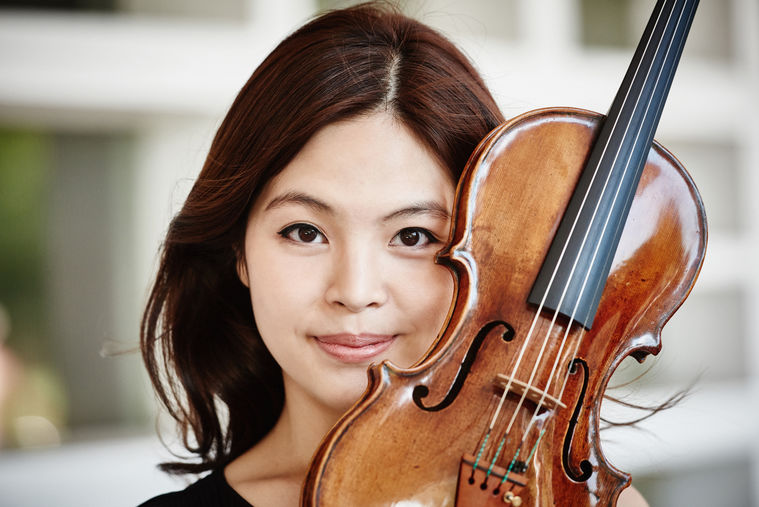 Jiyoon Lee has most recently been appointed concertmaster of the Staatskapelle Berlin, following further competition success, amongst them winning the Carl Nielsen Competition in 2016, after coming to the attention of the musical world when she won WFISC in 2015. Resulting invitations from her successes have included concerto performances throughout Europe, and we have been thoroughly enjoying her WFISC Prize Champs Hill Recording which has just been released.
Benjamin Baker following winning WFISC 2013, that same year went on to be selected as a YCAT artist in the UK, then in 2017 he was selected as a YCA in the US - so appearing frequently on both sides of the Atlantic, as well as across the globe. Last summer saw him travelling back to his native New Zealand to compete in the Michael Hill International Violin Competition that where he won third prize, along with concerto performances, including a return invitation from the Philharmonia Orchestra.
Yuki Ito has been highly instrumental in developing a fully international career - appearing equally as frequently in his native Japan as here in the UK and throughout the rest of the world. His recording with Champs Hill as part of his WFISC prize was a stepping stone to many further things, not least of which is his second album released on Sony Music, and earlier this year his solo debut at the Wigmore Hall, London.
Diana Galvydyte is a Lithuanian born violinist. She studied with Natalia Boyarsky at the Yehudi Menuhin School in Surrey and at the Royal College of Music in London obtaining a Masters Degree in Performance with Distinction.
Diana's appearances include the Wigmore Hall, Cadogan Hall, Queen Elizabeth Hall's Purcell Room, St.James's Piccadilly and Buckingham Palace for HRH The Earl of Wessex, as well as live on In Tune BBC Radio 3. Abroad, Diana appeared at the Chamber Hall of the Concertgebouw in Amsterdam, Theater Diligentia in the Hague, Konzerthaus in Vienna and gave a recital for Radio France Festival in Montpellier.
Diana performed as a soloist with the Philharmonia Orchestra at Windsor castle as the Winner of the International Windsor Festival String Competition. She made her USA debut performing Elgar's Violin Concerto with the Bakersfield Symphony Orchestra. In Lithuania Diana performed with the Lithuanian National and State Symphony Orchestras as well as the Lithuanian Chamber Orchestra, often broadcasted on National Television.
Diana's CD "A Different World" was awarded four stars by the BBC Music Magazine.

Diana was a professor of violin at the Yehudi Menuhin School for twelve years. Her students' awards in international violin competition include Grumiaux in Brussels and Ilona Feher in Hungary 2019, Menuhin in Geneva 2018, Rubinstein in Germany 2018 and Postacchini in Italy 2017.

Brian O'Kane is quickly establishing himself as one of the finest Irish musicians of his generation and is in increasing demand as both a soloist and chamber musician.
He came to prominence by taking first prize at the Windsor Festival International String Competition and is also a former prizewinner of the Royal Overseas League Competition, a former winner of the Accenture Bursary Award and Camerata Ireland Young Musician Award.
In 2008, Brian performed with Camerata Ireland in Dublin's National Concert Hall under Barry Douglas and with the Philharmonia Orchestra at Highgrove before the Prince of Wales. He appeared again with the Philharmonia Orchestra under Vladimir Ashkenazy at the 2009 Windsor Festival. Brian has recently been awarded the National Concert Hall of Ireland's 'Rising Star' award.
2017 winners
First Prize and Audience Prize: Nathan Meltzer
Second Prize: Jonian Ilias Kadesha
Third Prize: Luke Hsu
2015 winners
First Prize: Jiyoon Lee
Second Prize: Timothy Ridout
Third Prize and Audience Prize: Elena Buksh
2013 winners
First Prize and Audience Prize: Benjamin Baker
Second Prize: Yuka Ishizuka
Third Prize: Marisol Lee
2011 winners
First Prize: Yuki Ito
Second Prize: Jiafeng Chen
Third Prize: Michael Petrov
2008 winners
First Prize: Brian O'Kane
Second Prize: Joo Yeon Sir
Bow Prize: Adam Newman
Audience Prize: David McCaroll